Directions
The Hotel Grand Pacific is located in the heart of Victoria, British Columbia, on the city's historic downtown Inner Harbour and just steps away from all the city has to offer — shopping, arts & culture, international cuisine, outdoor adventures, golf and nightlife.
And we are within easy reach of Seattle—just down the street from Belleville Terminal, the home of the Victoria Clipper; Port Angeles—directly across from the Blackball Ferry Terminal and "The Coho"; Vancouver – easy walk from both the HeliJet and Harbour Air terminals; with direct access to Victoria International Airport and BC Ferries' Swartz Bay terminal.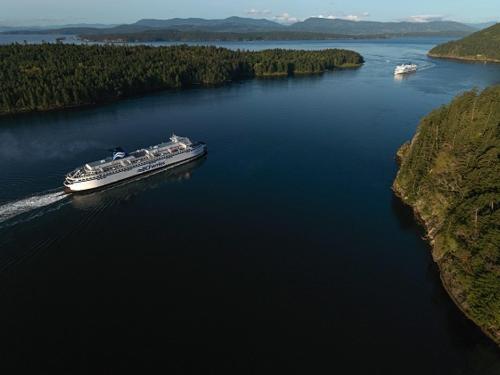 By Car From Vancouver
To get to Victoria by car, you must take Highway 99 south from downtown Vancouver to the BC Ferry Terminal at Tsawwassen (follow the signs for 'Ferries'), then take a BC Ferry to Swartz Bay Terminal. Your trip from downtown Vancouver to downtown Victoria will be about four hours in total, including the 95 minute ferry ride. When you leave the Swartz Bay terminal, follow highway 17 into downtown Victoria. The Hotel Grand Pacific is located on Belleville Street, facing towards the inner harbour. For more information on BC Ferries, schedules and reservation information see the "By Ferry" section below.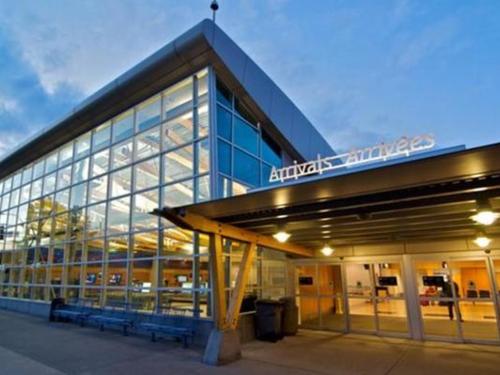 By Car from the Victoria International Airport
Exit the airport on the main road
At the roundabout, take the 2nd exit onto Willingdon Rd.
At the roundabout, take the 2nd exit and stay on Willingdon Rd.
Continue onto Canora Rd.
Merge onto Canora Rd. and take the 2nd exit at the roundabout, onto the Patricia Bay Highway #17, heading South.
Continue on Highway #17 into downtown Victoria (Approximately 25 kilometres / 30-45 minutes)
The highway becomes Blanshard Street in Victoria.
Continue along Blanshard Street, which after a small down hill and a sharp right bend becomes Belleville St.
Approximately three blocks after the sharp right bend, past the Legislative Buildings (on your left), you will find the hotel and main driveway on the left, at 463 Belleville Street (Large 10 story, dusty rose coloured building)
The parking entrance is located on Quebec Street: turn left just before the hotel onto Menzies Street, then right onto Quebec Street. At the end of the building, you will find the entrance to the underground parking garage. Parking is subject to daily and overnight rates. Please call for more information. (Overheight parking is available nearby, subject to availability (for hotel guests only).
If you require any additional information, please do not hesitate to contact the Concierge Desk at 250-380-4484, the Bell Desk at 250-386-0450, or by e-mail at concierge@hotelgrandpacific.com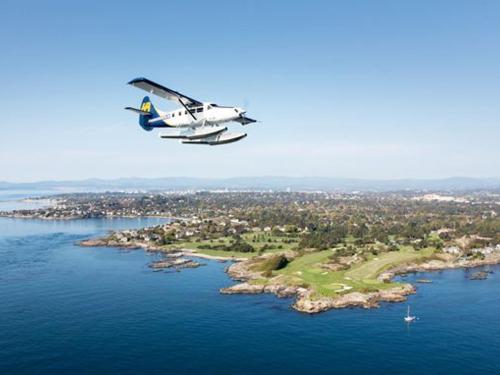 By Plane from Vancouver
Several airlines operate daily connector flights to and from Victoria International Airport (YYJ) including:
Air Canada Jazz: 1-888-247-2262
Air Canada: 1-800-667-1729
BC Connector: 1-888-788-8840
(Local: 1-778-265-9474)
West Jet: 1-888-WESTJET (1-888-937-8538)
From Victoria airport, you may take a taxi (Expect to pay approximately $65 - 75 CAD) to downtown Victoria, or a shuttle bus (The rate for a single ticket is $25 CAD/ two tickets for $44 CAD), which stops at most downtown hotels. You may also rent a car at the airport (and follow driving instructions).
There are also direct flights from downtown Vancouver's inner harbour to downtown Victoria's inner harbour by Sea Plane or Helicopter:
Harbour Air (Sea Plane):
(250) 385-2203 or 1-800-665-0212
1234 Wharf Street, Victoria
West Coast Air (Sea Plane):
(250) 388-4521 or 1-800-347-2222
1000 Wharf Street, Victoria
Helijet Airways (Helicopter):
(250) 382-6222 or 1-800-665-4354
Service from downtown Vancouver and Vancouver International Airport to downtown Victoria.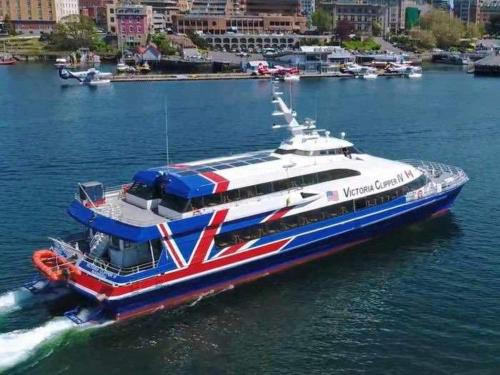 By Ferry From Vancouver, Seattle, Port Angeles, or Anacortes
BC Ferries provide fast, frequent service between the BC Mainland and Vancouver Island. From Vancouver to Victoria the crossing time is approximately 95 minutes. There are hourly sailings during the summer, and a minimum of 8 sailings a day in the fall, winter and spring. Reservations are not required, but can be made for an additional $17.50 per sailing. You will need a Credit Card number to make a reservation. Call: (250) 386-3431, 1-888-BCFERRY (1-888-223-3779) and fax at (250) 381-5452.
M.V. Coho is a scheduled year-round vehicle and passenger ferry operating between Port Angeles, Washington, and downtown Victoria. Sailing time is approximately 95 minutes. Reservations can be made at 250-386-2202.
Washington State Ferries provides scheduled ferry service for both passengers and vehicles between Anacortes, Washington and Sidney, BC. The ferries operate all year. Telephone (250) 381-1551 or (250) 656-1531 In Washington State call (206) 464-6400 or 1-800-84-FERRY.
The Victoria Clipper operates a daily high-speed passenger only, catamaran service between Seattle and Victoria year round. For information on schedules and costs, Telephone: (250) 382-8100. (206) 448-5000 in Seattle, or 1-800-888-2535.
The Victoria Express operates a seasonal passenger only ferry between Port Angeles, Victoria and Friday Harbor in the San Juan Islands. For more information on schedules and rates, please call (250) 361-9144 in Canada or (360) 452-8088 in the United States.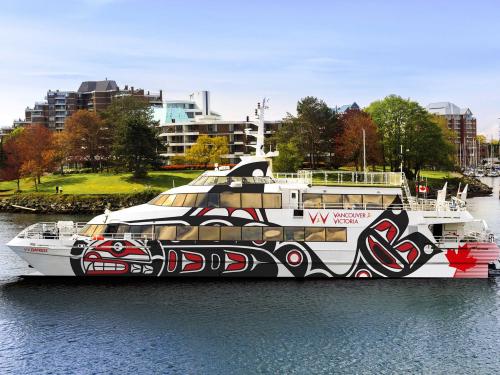 By Ferry Direct From Vancouver Harbour to Victoria's Inner Harbour
V2V Vacations operates a daily high-speed passenger only, catamaran service between Vancouver and Victoria year round. For information on schedules and costs, visit
v2vVacations.com
or call: 1-855-554-4679
By Bus from Vancouver
Pacific Coach Lines offers frequent Bus/Ferry service from downtown Vancouver Bus Depot to Downtown Victoria Capital City Station. 721 Douglas Street, Victoria (250) 385-4411 or 1-800-661-1725.