Traveling for Business?
If you spend a lot of time on the road, you know that there's no place like home. Business travel isn't the same as traveling with the family or a weekend getaway, and a work trip to Victoria, BC is no different. You need a business hotel that helps you stay productive and keep in touch with both the office and home, along with all the boutique hotel touches that help you strike that work/life balance, and make the most of any downtime.
Combining the upscale touches and warm service of a downtown Victoria boutique hotel, with the complete range of business facilities and dining options of a full-service property, the Hotel Grand Pacific is the perfect fit for business travelers. Visit our Business Centre to take care of your printing and faxing needs, or to book a meeting in our five-person boardroom, available by the hour. Our in-room dining menu means a desk-side dinner can still be healthy and delicious, and complimentary access to the adjoining Victoria Athletic Club lets you recharge and look after yourself while you're away from home.
Grand Advantage Loyalty Program
Those visiting Victoria for business on a regular basis can take advantage of the Grand Advantage Program. A complimentary membership is offered to travelers staying at the Hotel Grand Pacific for a minimum of five nights per year, rewarding them for their business and giving them access to additional boutique hotel services that make a property feel a little more like home.
Grand Advantage Program benefits include:
Guaranteed room availability outside of 48 hours

Free local and 1-800 calls
Curb side check-in upon request
Late check-out privileges
Turn down service
Classes and court fees waived in the Victoria Athletic Club
The above benefits are in addition to the following services, which are complimentary to all guests:
High-speed wired and wireless internet access

Express check-out

For more information on Grand Advantage Program membership, click here.
iPrefer Loyalty Program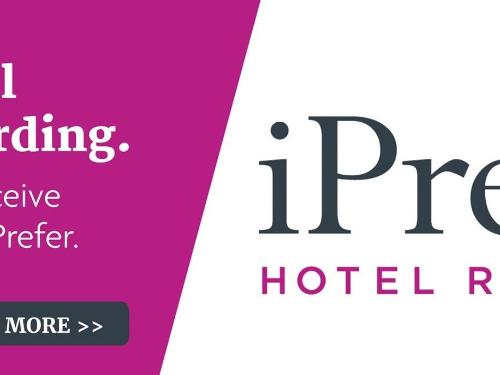 Make Travel More Rewarding with iPrefer
Earn points and receive VIP benefits such as free Internet and priority early check-in/late check-out with every eligible stay at the Hotel Grand Pacific and over 450 Preferred Hotels and Resorts locations worldwide. Points are redeemable for cash-value Reward Certificates valid for room charges or hotel amenities. Join at
iPrefer.com
.
Preferred Hotels and Resorts makes travel more rewarding with the world's first global points based loyalty program for independent hotels. Members earn points with every eligible stay, plus VIP rewards such as priority early check-in/check-out privileges and complimentary Internet access at over 450 participating locations worldwide. Points are redeemable for cash-value Reward Certificates valid for room charges, hotel amenities, and services at participating hotels and resorts. The more points a member earns, the more benefits they receive. All iPrefer members join at the Silver Tier and earn additional VIP benefits, including room upgrades and bonus points, as they earn more points and move to Gold and Platinum Tiers. Visit
iPrefer.com
for more information and details. Current members should include their member number in future reservations in order to earn points and other member rewards.