The Pacific Restaurant, Patio and Terrace
Under Renovation!
Please bear with us as the Pacific Restaurant, Patio & Terrace begins a transformative and exciting renovation project!
The Pacific Restaurant is OPEN but has currently shifted to operating through the Lounge only (entrance via the East Lobby). Once the restaurant side of the renovation is complete (final timeline TBA), it will open while the lounge will close and undergo a renovation of its own.
Please be aware, during the renovation we unfortunately are not able to offer a wheelchair accessible entry as the Lounge entrance does require minimal stair usage.
Stay tuned and check back often as we'll use this page (as well as our social channels) to share updates on the concept, design renderings, progress reports, photos and more!
__________________________________________________________________________________

Hours of Operation
Breakfast: 7 - 11am (11:30am Sat & Sun)
Dinner: 4 - 9pm (9:30pm Fri & Sat)
Daily Happy Hour Specials: 4 - 5:30pm
Take-Out is available for pick-up from The Pacific using our Take-Out Menu below.
Also, our Courtyard Cafe is open for dine-in or take-out breakfast, lunch and dinner, from 7am to 6pm daily. As well, the cafe offers a selection of bottled beer and wine available "to-go".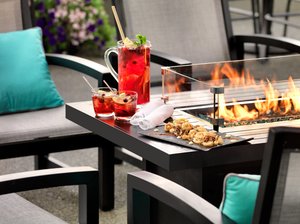 The Pacific's Patio & Terrace
In the summer months, outdoor dining on The Pacific Restaurant Terrace is a must. The perfect spot for a leisurely lunch and afternoon cocktail, sit back in the sunshine while enjoying spectacular views of Victoria's Inner Harbour and indulging in delicious bistro fare. On a cool afternoon, the fire tables offer an elevated al fresco dining experience and an added elegance to your gathering.
Whether you're a guest at the hotel, or simply someone who's looking for a restaurant in Victoria with great food, atmosphere and hospitality, we welcome you at the Pacific Restaurant.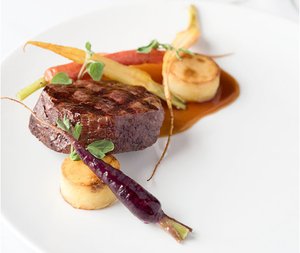 Fine Dining in Victoria
A gem among restaurants in Victoria, The Pacific's culinary team, led by Executive Chef Peter Kim, has created a menu of bistro-style dishes that showcase both high-quality regional ingredients and classic techniques.
Our in-house sommeliers present an award-winning wine program, along with a well-curated list of beers, ciders, cocktails, and spirits to perfectly complement your meal.
As a truly family-friendly property, the Pacific Restaurant has a special kids' menu. Similar to the Pacific's other offerings, the dishes on our children's menu are made from scratch with high-quality ingredients, but are designed to tempt the taste buds of the youngest members of your family.