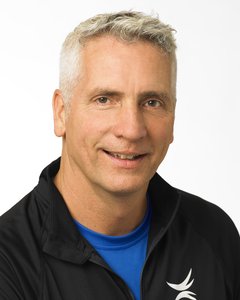 Kevin Attewell
Athletic Club Director
My lifelong interest in fitness and active living, and the fact that I have always enjoyed being in the gym, led to a career change in 2000. I remember it as one of those "ah-ha" moments when I realized that I could actually work in this environment. I got a job in a club, became a certified Personal Trainer and joined CanFitPro – Canadian Fitness Professionals - one of the world's largest associations of fitness professionals.
To obtain my goal of gaining varied experience in the fitness industry, I have worked and studied at a variety of fitness facilities in Vancouver, Toronto, Calgary and Victoria. I believe that exercise and activity should be enjoyable and so I work to create a fun, positive atmosphere everywhere I've worked.
I've often been asked what is the best exercise or activity - and I've always answered by saying the best one is the one you enjoy because that's the one you'll do!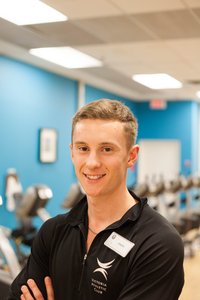 Joseph Rector
Front Desk
Fitness and nutrition have always been a big part of my life. I started playing competitive sports at a young age, and it's shaped me into the active person I am today. My first found passion is Basketball, however, it would be hard to find a sport I don't enjoy playing. My second found passion is cooking. I also started this at a young age, and I continued to pursue it on to post secondary-training. As a representative of the athletic club team, I am excited to welcome guests and members into an environment of constant self improvement.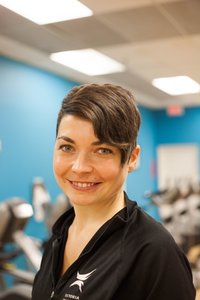 Michelle Mitschrich
Front Desk & Yoga Instructor
I am passionate about movement, singing, yoga and well being. I love helping people to discover more about their bodies and their lives through yoga, movement, and breath. My study of Recreation and Yoga has given me the tools and experience needed to help others to connect.I am a firm believer in creating a class that is balanced, invigorating, fun, and informative. One that encourages students to move inward and allow for a feeling of connection. I feel blessed to work and teach where there is such a strong feeling of community. You can find out more about Michelle, her classes and services she offers at michellekathleen.com.
Robert Smith, Yoga Instructor
Yoga has provided me a unique opportunity to discover inner peace; balance and self awareness. It has (yoga) greatly assisted recovery from running injuries and strengthened my external well being. More importantly, my spiritual well being, this being "Satya", the truth of self realization. This has been the greatest benefit from my personal yoga experience. I have traveled to India, seeking knowledge of its origin, its history, the birth place of yoga. Looking at the way each society approaches the practice, the unique ways and subtle differences that exist between the two.
Alana Collins, Personal Trainer
I am so excited to be a part of this world of fitness and look forward to sharing what I've learned in my life about how our general fitness level affects our day to day living, including our level of function, and our well-being, which are so connected our general frame of mind. I know what it feels like to be over 50 . Perhaps I don't feel how the stereotypical 50+ year old woman feels, due to my years of strength training; but it is a part of my mission as a Personal Trainer to help change those stereotypes!
Harley Preston, Personal Trainer
Also known as "Bob Harley", I am a 20 year veteran of the iron and have been practicing various forms of martial arts for over 23 years. I have competed in triathlon, adventure racing, kayaking & cycling. I was an extremely obese child and vowed at the age of 11 to change my life. This evolved into a life long pursuit of health and fitness which I've decided to share with the world. My greatest challenge however, has been overcoming debilitating injuries to most of my major joints. "I couldn't have a casual walk or do a push up for over a year." Everything is for a purpose though, and from these challenges I now have a keen knowledge of holistic training, which has allowed me to train at a high level yet remain largely injury free. "We all really want to be fit and healthy for ever, inside and out, not just in this minute." This all led to my concepts of four dimensional training, and the fitness yin yang. The best way to describe four dimensional fitness is "what can I do today that will insure life long fitness and health." I plan on entering the Iditarod dog sled race in my nineties, so I train in a way that will continually prepare me for this achievement.
Victoria Korby-Fuchs, Butt And Abs Instructor
A love of fitness coupled with a yearning to motivate others, led me to become a BCRPA certified group fitness instructor. I have been teaching a variety of fitness classes since 1997, and have loved every single minute of it. I am also an occupational therapist, so my background and training contribute to my understanding of the human body and movement.
Isabel Santos, Zumba Instructor
I started my fitness instructor training in 1990 at the University of Cuba.Prior to moving to Canada, I was a member of the Cuban National Marathon team. I moved to Canada in 2008 where I continued my fitness training. I am licensed to teach fitness theory and exercise physiology, group fitness, weight training, ZUMBA®, ZUMBA Toning, ZUMBA Gold®, Aqua ZUMBA, andBellyfit®. I taught my first fitness class in Canada at the James Bay Community Centre where I continue to teach. For a complete weekly schedule of ZUMBA classes, visit my website, IsabelFitness.com. My site also has videos, information about upcoming special ZUMBA events, photos from recent public fiestas and ZUMBA parties, and testimonials from many of my students. Come share my passion for ZUMBA. I choreograph each class according to the interests and fitness levels of my students. Every class gives me energy and my students tell me they feel the same way. Hope to see you Zumbeando!
Marion Selfridge, Nia Instructor
I discovered Nia in Seattle, WA while working on my Masters in Social Work. Dealing with the stresses of school and work, Nia was the beacon of light, the release and joy that made the world ok again. "I love to dance - to move to music in any space from an outdoor rave or party, modern dance class, roof top tai chi classes in Thailand, yoga on the beach in the summer sun, or rocking out in my kitchen. Nia combines so many amazing forms of movement and provides the space to respect your body, to find yourself and the joy of being alive! I am thrilled to build on the community of Nia in Victoria, to provide people the opportunity to fall in love with their bodies all over again."
Pam Nichols, Yoga Instructor
After more than 10 years of dedicated yoga practice everywhere from Bali, Turkey, Mexico, Costa Rica and Hawaii to our great local studios I have evolved a challenging but still do-able style of yoga teaching. My background as a physician leads me to stress alignment and safety, and my experience as a mother and grandmother brings playfulness and stamina! Yoga has transformed my life and taught me how to embrace joy. As Pattabhi Jois, the founder of the Ashtanga branch of the yoga tree, famously said, "Do your practice, all is coming." I am honoured to help others find ever-evolving strength and flexibility, and to understand the truth of this quote from T.K.V. Desikachar, another "founding father" of yoga: "The success of Yoga does not lie in the ability to perform postures but in how it positively changes the way we live our lives and our relationships."